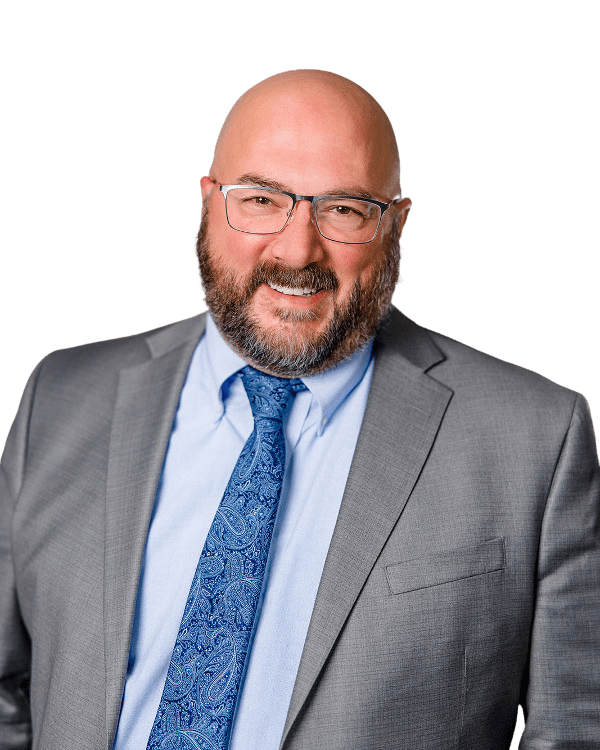 Rob grew up in Port Huron and moved to West Michigan when he began working as a police officer in 1996. After almost 13 years on patrol, Rob returned to school, completing his undergrad at GVSU, and his law degree at Western Michigan University's Cooley Law School. Rob specializes in employment law, handling claims under the FMLA, wage and hour claims, non-compete litigation, discrimination claims, Whistleblower claims, and sexual harassment cases. His personal injury experience ranges from dog bites to car crash injuries.
J.D., Western Michigan University's Cooley Law School - 2012, cum laude
B.S., Political Science, Grand Valley State University, with honors
Professional Associations and Memberships
USDC for the Western District of Michigan
USDC for the Eastern District of Michigan
Western District of Michigan Chapter of the Federal Bar Association
State Bar of Michigan
Grand Rapids Bar Association
American Bar Association
Michigan Association for Justice
Super Lawyers 2021-2022 Rising Star
Best Lawyers in America, 2021, 2022, 2023
Cooperating Attorney for the Fair Housing Center of SW Michigan
Cooperating Attorney for the Fair Housing Center of West Michigan
Many successful claims are resolved by confidential settlement, meaning the attorneys and parties are unable to share the details of the resolution. But some decisions are a matter of public record. Select cases are listed here.
Hodges v 77 Grandville et al (2019) – recovered $225,000 in lost wages and damages for 27 servers and bartenders who were not paid for all hours worked and had tips improperly withheld from their wages.
Overstrom v City of Lansing (2022) - $250,000 award for a City employee who was fired after reporting possible employee license violations by the City's Water Department.
Thompson v Beacon Specialized Living (2020) – award of over $170,000 in damages for employee who was terminated following her reports of an unsafe work environment. It was determined she was a Whistleblower and her reports were the reason for her termination.
Anderson v Haworth (2018) – verdict of over $140,000 in a racial discrimination claim for an African American employee who was not hired in directly from her temp position when less qualified and experienced white employees were.
Kidd v Charter Communications (2016) – jury verdict of over $650,000 for an employee who was terminated for absences after taking time off to treat her multiple sclerosis under the FMLA.
Award of $40,000 for a bartender who was terminated after reporting the employer for Liquor Control Commission violations.
Recovered $50,000 for employee who was sexually harassed by her supervisor and promised a promotion if she complied with his demands.
Recovered $30,000 for manager of a bar who was sexually assaulted by the owner of the bar/restaurant.
Recovered $50,000 for an employee who reported a hostile work environment created by her manager and was terminated after that report. The manager was having an affair with another employee and pursuing our plaintiff.
Recovered over $100,000 for an employee whose boss grabbed her breasts, butt, and frequently propositioned her. Employee was terminated after testifying about his behavior in an unrelated matter.
Recovered $30,000 for an employee who was sexually assaulted by a coworker and fired following her report to management.
Hobbies and Community Activities
When Rob is not working, he enjoys spending time with his wife Rachelle and their family of seven children who range from ages 22 to 2. Foster care is an important mission for the Howards and they hope to continue helping kids of West Michigan who need assistance for years to come. Rob enjoys taking his family camping, completing (or nearly completing) home improvement projects, reading, and travel. Rob has had a diverse employment path, having worked retail, warehouse, appliance repair, waiting tables, working as a police officer, managing an office, and of course his current work as an attorney.
When an employee is terminated, they are occasionally offered a severance agreement. There are multiple reasons for a severance offer. It could be to soften
Read More »
What Is the Management or Executive Exemption Under the Fair Labor Standards Act ("FLSA")? Under the Fair Labor Standards Act (FLSA), most US employees must
Read More »
The Michigan Court of Appeals reversed a lower court opinion that would have raised Michigan's minimum wage to $13.03 on February 19, 2023.The Court of
Read More »